Get Your Home in "Show Condition" To Get Top Dollar
Preparing your property for the market starts with an honest assessment of its current condition. While your home may have suited your personal tastes and needs, getting it ready for sale requires a different approach. With Elke as your trusted agent, she strives to find the perfect balance between your comfort as a homeowner and creating an impeccable showcase.
Homes that are marketed effectively, priced correctly, and meticulously prepped for sale and staging sell faster than the rest. Proper preparation ensures that your home spends minimal time on the market (often less than 30 days) before securing a contract. And here's the best part: this winning strategy causes minimal inconvenience to you, and you won't need to spend a fortune to achieve it.
Elke's BIG 3 Tips to Prep Your Home: Declutter • Clean • Paint
Decluttering your home is the single most important step in the preparation process. Once your home is decluttered, the next tasks are cleaning and painting. These three actions won't break the bank or consume much time, yet the transformation they bring will astonish you.

1. Declutter: Visualize maximizing your floor space and countertop space. Clear out items that don't belong and make these areas as uncluttered as possible. Consider storing large pieces of furniture that take up excessive floor space. The more open and spacious your home appears, the more inviting it becomes. Remember, less is more!
2. Clean: After decluttering, give your home a thorough deep clean inside and out. Clean the floors, walls, baseboards, doors, windows, and all surfaces. If feasible, power wash the exterior, driveways, and walkways. I recommend forming a cleaning crew with friends or hiring a professional cleaning service for optimal results. A deep clean typically costs $200-$300, depending on your home's size and condition.
3. Paint: Once your home is decluttered and clean, evaluate the paint. Check the walls, baseboards, doors, windowsills, and ceilings. Some areas may only require touch-ups, while others may need a complete repaint. Create a list, decide whether to tackle the work yourself or hire someone.
First Impressions are Lasting Impressions.

The exterior of your home often determines how buyers will view the interior, so:
Make sure your front entrance is clean and inviting.
Paint or replace your front door if it's faded or worn.
Add some paint to shutters, trim and any other outside features showing signs of wear.
Add vibrant plants and put down some fresh mulch.
Accentuate the Positive.
"How we live in a home and how we sell a home are often two different things." Try to see your home with a fresh perspective and arrange each room to bring out its best attributes, including:
Keep windows and floors clean.
Replace faded wallpaper and glue any areas that have come away from the wall.
Repair worn woodwork.
Repaint scarred or dirty walls in a neutral color.
Steam clean carpeting or replace it, if necessary.
Repair loose knobs, sticking doors and windows, warped cabinet drawers, broken light switches and other minor flaws.
Check and repair caulking in bathtubs and showers.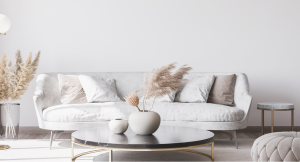 Try to see your home with a fresh perspective and arrange each room to bring out its best attributes. By removing clutter you are allowing buyers to use their imagination on what their belongings would like in the space. It also allows the buyers to focus on what features your home has vs. what it needs. Great tips for helping a home truly shine include:
Open draperies and curtains to let the light in during the showing.
Remove all unnecessary clutter from your attic, basement and closets to better display spacious rooms (consider storage or a garage sale to dispose of extraneous items).
Arrange all your rooms neatly and remove excess furniture. Keep fresh, clean towels in the bathroom. Use candles or air fresheners to make the room smell pleasant.
Put Your Home in the best possible light.
Strategically lighting your home, even during daytime showings, can create a cozy mood and highlight positive attributes of each room, so:
Avoid the use of overhead lighting that makes rooms look washed out and lifeless.
Be creative and arrange lamps to help smaller rooms seem larger, and large rooms seem more intimate.
Use lighting to highlight the "living areas" of your home, such as a pair of chairs near a fireplace, or a table in a breakfast area.
Inside:
Clear all unnecessary objects from furniture throughout the house. Keep decorative objects on the furniture restricted to groups of 1, 3, or 5 items.
Clear all unnecessary objects from the kitchen countertops. If it hasn't been used for three months…put it away!
Clear refrigerator fronts of messages, pictures, etc. (A sparse kitchen helps buyers mentally move their own things into your kitchen.)
In the bathroom, remove any unnecessary items from countertops, tubs, shower stalls and commode tops. Keep only your most needed cosmetics, brushes, perfumes, etc., in one small group on the counter. Coordinate towels to one or two colors only.
Rearrange or remove some of the furniture if necessary. As owners, often we have too much furniture in a room. This is wonderful for our personal enjoyment, but when it comes to selling, we need to thin out as much as possible to make rooms appear larger.
Take down or rearrange certain pictures or objects on walls. Patch and paint if necessary.
Review the house inside room by room. Paint any room needing paint, clean carpets or drapes that need it, clean windows.
Leave on certain lights during the day. During "showings" turn on all lights and lamps.
Have stereo FM on during the day for all viewings.
Lockbox--#1 Importance: "If we don't have it, they won't show it."
Outside:
Trim landscaping to reveal architectural detail (bottom of windows, etc.). "If they can't see it, we can't sell it."
Go around the perimeter of the house and move all garbage cans, discarded wood scraps, extra building materials, etc., into the garage.
Check gutters and/or roof for dry rot. Make sure they are swept and cleaned.
Look at all plants…prune bushes and trees. Keep plants from blocking windows. "You can't sell a house if you can't see it." Plants are like children-they grow so fast!!
Weed and then bark all planting areas. Keep lawn freshly cut and fertilized. Remove any dead plants or shrubs.
Clear patios or decks of all small items, such as small planters, flowerpots, charcoal, barbecues, toys, etc. (Put them in the garage).
Check the paint condition of the house-especially the front door and trim. "Curb appeal really works!"
Home Repairs:
Elke strongly advises sellers to address any minor cosmetic home repairs within their budget. These include fixing broken light fixtures, torn screens, cracked caulking, broken tiles, leaking faucets, cracked windows, loose doorknobs, and replacing light bulbs. While you may have been content living with these minor issues, potential buyers may see them as warning signs of hidden problems. Compile a list of repairs and hire a handyman who can efficiently complete them in a day. Elke has a trusted network of reputable tradesmen that she can recommend to you.
In General
Try to look at your house "through the buyer's eyes" as though you've never seen it or been there before. Any time or money spent on these items will bring you back more money in return, and hopefully a faster sale.
By following these preparation tips, you'll position your home to stand out in the market and attract eager buyers. Let's work together to showcase your property at its best and maximize its selling potential.