Isn't It Time That You Got To Keep 'MORE'?
GET MORE ● KEEP MORE ● 100% COMMISSION
It's That Simple!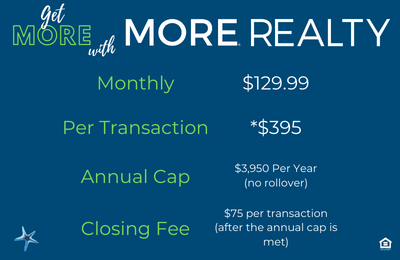 * or 10%, whichever is less (i.e. $2000 Commission = $200)
Does not include $25 per month MLS Fee, Dues, Federal/State/local taxes, or additional required fees in the operation of your business.
---
There's "MORE"!
Free E&O Insurance ● No splits ● No hidden fees ● No franchise fees ● No desk fees
Free Support ● Tools ● Training ● Electronic Signature Software ● Forms ● And

MORE

!
Have questions? Ready to learn MORE? Call

843-655-7879
or click here to request more information
Rather

schedule a call?
Are you ready join?
*All information is deemed reliable and programs/fees vary by area. This office is independently owned and operated.